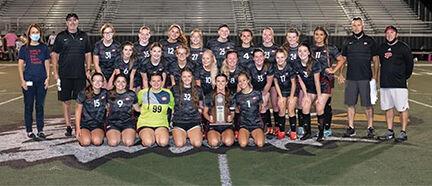 Prestonsburg pulled away to defeat Lawrence County 5-1 at Johnson Central High School's Eagle Field to repeat as 15th Region girls' soccer champion on Thursday, Oct. 22.
After recording the win, Prestonsburg advanced to the KHSAA Girls' Soccer State Tournament.
"We are so excited to be able to win back-to-back region titles," Prestonsburg Coach Paul Burchett said, following his team's triumph. "It's not an easy thing to accomplish. But, it's even more difficult doing it with such a different team. Losing the girls that we did from last year to graduation and still being able to repeat says a ton about this group of girls. We had individual meetings after the season last year and one of the main topics with some of them was the need to step in to a greater role. Makayla (Ousley) isn't here anymore, Beth (Burchett) isn't here, Grace (Trusty) isn't here, now it's up to you guys to fill those voids. They took it to heart and started in the offseason preparing to do just that. And they did. Big congrats to Lawrence County, as well. They are a young team and had a great year."
Prestonsburg distanced itself from Lawrence County, thanks in part to senior Lauren Johnson and junior Kadynce Hackworth scoring two goals apiece.
Anna Burchett, a sophomore, scored one goal and dealt out one assist for the Lady Blackcats.
Chipping in for Prestonsburg, Chloe Cox provided two assists while Shae Robinson registered one assist.
Goalkeeper Alivia Slone allowed only one goal and recorded six saves for Prestonsburg in the victory.
Prestonsburg blanked Pikeville 10-0 in the 15th Region Girls' Soccer Tournament Semifinals on Tuesday, Oct. 20. More on the Prestonsburg-Pikeville girls' soccer match follows.
Prestonsburg 10, Pikeville 0: Anna Burchett scored four goals and dealt out one assist to lead Prestonsburg over Pikeville 10-0 in the 15th Region Girls' Soccer Tournament semifinals at Johnson Central's Eagle Field on Tuesday, Oct. 20.
Prestonsburg moved ahead early and never faltered.
In addition to Burchett, Kadynce Hackworth (two goals, one assist), Lauren Johnson (one goal, four assists), Chloe Collins (one kill, one assist), Hannah Blankenship (one goal), Maggie Nelson (one goal) and Lauren Patton (one assist) contributed offensively for the Lady Blackcats.