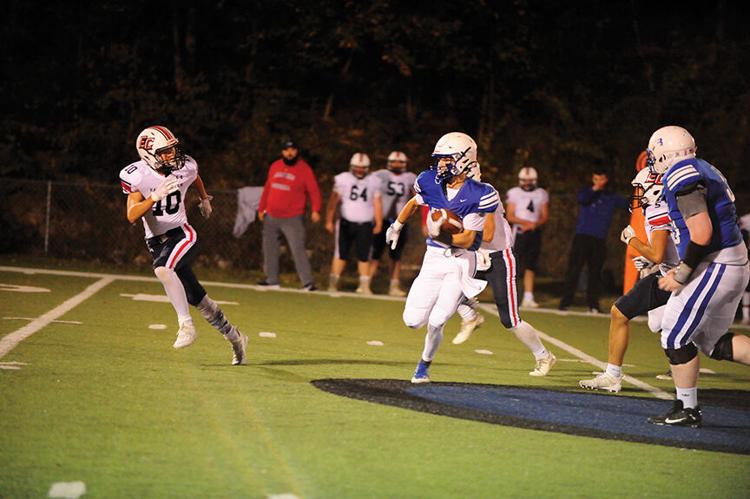 Who: Betsy Layne (1-4) at Paintsville (5-2)
Kickoff: Friday, November 20, 7:30 p.m.
Location: Memorial Field, Paintsville.
Coaches: Scotty McCoy, Betsy Layne; Joe Chirico, Paintsville.
Notes: Betsy Layne is set to visit Paintsville in the opening round of the KHSAA Class 1A Football Playoffs on Friday, Nov. 20.
Class A District 6 rivals, Betsy Layne and Paintsville did not meet during the regular season.
Betsy Layne ended the regular season 1-4 overall and 1-0 in Class A District 6. After opening the season with four straight losses to Magoffin County, Knott County Central, Phelps and East Carter, Betsy Layne beat Fairview 18-12.
Junior quarterback Chase Mims leads the Bobcats. In five games, Mims has completed 77 of 154 passes for 1,259 yards and 12 TDs. Mims has thrown five interceptions.
Shawn Dee Howell paces the Bobcats in receiving. Howell has hauled in 35 receptions for 538 yards and seven TDs.
Behind Howell, Brady Robinson has reeled in 19 receptions for 353 yards and four TDs.
Giving Betsy Layne another reliable receiver, Jaxson Burchett has caught nine passes for 264 yards and one TD.
Defensively for Betsy Layne, Marcus Hall and Skyler Salisbury have recorded 39 tackles apiece.
Betsy Layne has rushed 116 times for 387 yards and three TDs.

Austin Tackett paces Betsy Layne on the ground. Tackett has rushed 64 times for 265 yards and one TD. Following Tackett, Mims has rushed 43 times for 106 yards and two TDs.
Paintsville concluded the regular season 5-2 overall and 1-1 in Class 1A, District 6. The Tigers started the 2020 high school football season 5-0 after posting wins over East Jessamine, Hazard, Perry County Central, Fairview and West Carter. However, Paintsville has dropped back-to-back games to Raceland and Letcher County Central.
Senior quarterback Jake Hyden leads the Tigers. Hyden has completed 69 of 115 passes for 1,047 yards and nine TDs.
Zach Taylor, Devin Hall and Karsten Poe rank as Paintsville's top three receivers.
Balanced, Paintsville has rushed 223 times for 1,567 yards and 26 TDs.
Harris Phelps leads Paintsville on the ground. Phelps has rushed 86 times for 639 yards and 10 TDs.
Delivering on the ground as well as through the air, Hyden has rushed 61 times for 383 yards and nine TDs.
Defensively for the Tigers, senior linebacker Mason Lovely has recorded a team-high 74 tackles. Lovely transferred from Magoffin County to Paintsville for his senior season.
Kickoff for the Betsy Layne-Paintsville postseason matchup is slated for 7:30 p.m.
Who 2 Watch: For Betsy Layne, junior quarterback Chase Mims.
An underrated high school football player, Mims continues to lead the Bobcats.
For Paintsville, senior quarterback Jake Hyden.
Versatile, Hyden leads Paintsville in passing and ranks as the Tigers' second-leading rusher.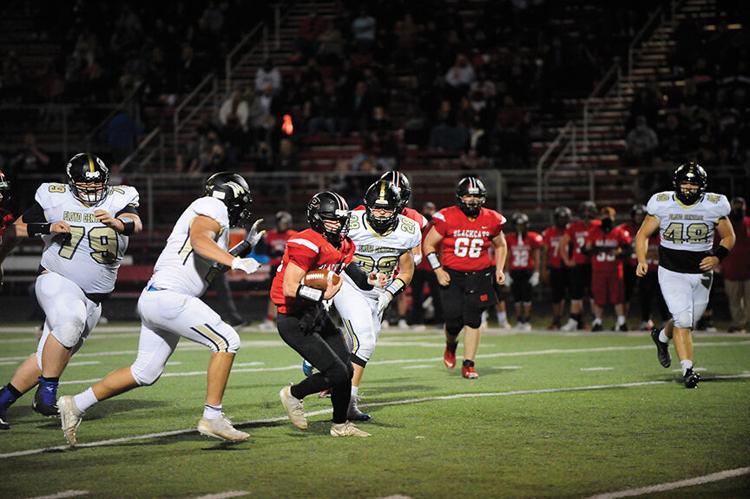 Who: Prestonsburg (3-4) at West Carter (7-1)
Kickoff: Friday, November 20, 7:30 p.m.
Location: Michael Blankenship Memorial Stadium, Olive Hill.
Coaches: Brandon Brewer, Prestonsburg; Daniel Barker, West Carter.
Notes: Prestonsburg is preparing to face District 8 frontrunner West Carter on the road in the opening round of the 2020 KHSAA Class 2A Football Playoffs on Friday, Nov. 20.
The Blackcats compiled a 3-4 overall record during the regular season. Prestonsburg finished 2-2 in Class 2A, District 8.
Senior quarterback Brayden Slone leads the Blackcats. Pacing Prestonsburg on the ground, Slone has rushed 68 times for 821 yards and 13 TDs. Through the air, Slone has completed 11 of 31 passes for 101 yards and one TDs.
Prestonsburg is averaging 250-plus rushing yards per game. The Blackcats have rushed 243 times for 1,781 yards and 23 TDs.
Ranking as Prestonsburg's second-leading rusher, Carter Akers has rushed 67 times for 393 yards and four TDs.
Ethan Jarvis has rushed 58 times for 290 yards and two TDs for the Blackcats.
Another productive Prestonsburg running back, Nathan McGuire has rushed 32 times for 243 yards and two TDs.
Defensively, Braxton Collins has tallied a team-high 58 tackles for the Blackcats.
Akers boasts 50 tackles while Owen Greene has made 43 stops.
West Carter notched wins over nemesis East Carter, Boyd County, Shelby Valley, Bath County, Prestonsburg, Boone County and Russell during the regular season. Paintsville dealt West Carter its lone regular season loss.
West Carter has rushed 207 times for 1,778 yards and 26 TDs.
Senior running back Leetavious Cline leads West Carter. Cline has rushed 149 times for 1,403 yards and 21 TDs.
Behind Cline, Cole Crampton has rushed 39 times for 312 yards and two TDs for the Comets.
Through the air for West Carter, senior quarterback Orry Perry has completed 70 of 139 passes for 827 yards and 15 TDs. Perry has thrown four interceptions.
Blake McGlone leads West Carter in receiving. McGlone has reeled in 26 receptions for 316 yards and five TDs. Ranking second in receiving for the Comets, Jackson Bond has hauled in 24 receptions for 268 yards and five TDs.
During its eight-game regular season, West Carter outscored opponents 310-101.
Dylan Roe (70 tackles), Isaac Bond (69 tackles) and Gavin Gibson (67 tackles) rank as West Carter's top three tacklers.  
West Carter pulled away to defeat Prestonsburg 58-7 when the two teams met during the regular season.
Kickoff for the West Carter-Prestonsburg football game is set for 7:30 p.m. in Olive Hill.
Who 2 Watch: For Prestonsburg, senior quarterback Brayden Slone.
A longtime leader, Slone is Prestonsburg's top rusher from his quarterback position.
For West Carter, senior running back Leetavious Cline
One of the state's top rushers, Cline is averaging 175 rushing yards per game.