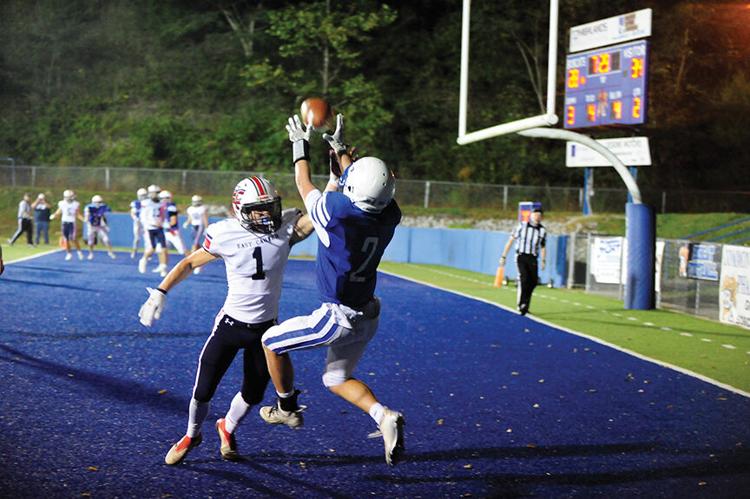 BETSY LAYNE — Betsy Layne thrived offensively throughout the first half but faltered as visiting East Carter pulled away to win 70-34 in Week 4 of the 2020 high school football season on Thursday, Oct. 1.
The Bobcats and Raiders met for a non-district matchup.
With the loss, Betsy Layne dropped to 0-4.
East Carter improved to 3-1 with the win.
Class 3A, District 7 member East Carter and Betsy Layne swapped touchdowns in the first half before the Raiders moved ahead. The Raiders outscored the Bobcats 28-22 in the opening quarter. Offensive-heavy East Carter led 50-28 at halftime and stretched its lead after the intermission period.
Thriving on the ground, East Carter averaged nearly 12 yards per carry. The Raiders rushed 46 times for 540 yards and eight touchdowns.
Leading East Carter on the ground, Jacob Underwood rushed 16 times for 293 yards and five touchdowns.
Following Underwood in rushing for the Raiders, Charlie Terry rushed 12 times for 175 yards and one touchdown.
East Carter quarterback Kanyon Kozee rushed for two touchdowns. Through the air, Kozee completed his only passing attempt for a 17-yard touchdown to Brodey Stamper.
Betsy Layne junior quarterback Chase Mims passed for five touchdowns in the loss. Shawn Dee Howell hauled in three touchdown pass receptions for the Bobcats. Following Howell in receiving for the Bobcats, Jaxson Burchett and Brady Robinson added one touchdown pass reception apiece.
Betsy Layne-Raceland game canceled due to COVID-19: A Betsy Layne-Raceland football game scheduled for Friday, Oct. 9 has been canceled due to COVID-19. The Bobcats were slated to host the Rams for a Class 1A District 6 game in Week 4 of the 2020 high school football season.