Laura Jonette Baldridge, 73, of East Point, died Saturday, September 12, 2020.
Visitation will be held at 11 a.m., Wednesday, September 16, at First Presbyterian Church, Prestonsburg, with funeral services at 2 p.m.
Burial will follow in the Mayo Cemetery, Prestonsburg.
Arrangements are under the direction of Nelson-Frazier Funeral Home of Maritn.
Nell Ruth Justice Banks, 75, of Prestonsburg, died Thursday, September 10, 2020.
Funeral services were held Sunday, September 13, at Cow Creek Freewill Baptist Church, Prestonsburg.
Burial followed in the Richmond Cemetery, Prestonsburg.
Arrangements were under the direction of Nelson-Frazier Funeral Home of Martin.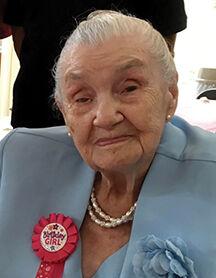 Goldie Mae Boyd Conn, 111, of Banner, widow of Delzie Conn, died Tuesday, September 8, 2020, at the Prestonsburg Healthcare Center where she had resided since February 2009.
She was born July 12, 1909, the sixth child of the late Leander "Lee" and Lou Ellen Crisp Boyd. She was a member of the Little Salem Old Regular Baptist Church, Dana, and the current oldest living Kentuckian.
She is survived by her devoted daughter, Emma Lou Akers of Banner, and four beloved sons: Hubert Conn, Banner, Garland (Ann) Conn, Shepherdsville, Bascom (Louanna) Conn, Wakeman, Ohio and Linzie Jr. (Sandy) Conn, Banner.
She was the adored Grandmother of 23 surviving grandchildren: Linda, Eva, Wade, Regina, Hugh David, Benjamin, Kathy, Christopher, Patricia, Rita, Jim, Anita, Elizabeth, Danny, Jeff, Terri, Lester, Priscilla, Ron, Tera, Rodney, Shawn and Triska; 50 great-grandchildren; 69 great-great-grandchildren; 19 great-great-great- grandchildren.
She was also survived by her loving family at Prestonsburg Healthcare, many of whom had known or cared for her for more than 11 years, many nieces, nephews, cousins, and friends.
She was a kindhearted person who never met a stranger. She enjoyed having a cup of coffee and sharing stories about her life and family, including her little dog Chopper. Although she grew up and raised most of her family without the common conveniences we know today, therewas always plenty of food on the table and most importantly love. She relied on her faith and focused on living instead of worrying. In her younger days, she used to say she might live to be 120 and she got closer than most thought possible.
She was preceded in death by one son, Linzie L. Conn; six brothers: James, Henry, Turner, Alex, Luther, and John; seven sisters: Rosie Raines Lamb, Minnie Crisp, Annie Hatfield, Gracie Boyd, Mary Jarrell, Lassie Hart and Claudie Menhart; five grandchildren: Patty Sue, D.J. Mike, Nancy and Joy; four great-grandchildren, one son-in-law and two daughters'-in-law.
She will be missed by all that knew and loved her.
 Funeral services were held Thursday, September 10 at Hall Funeral Home Chapel with the Old Regular Baptists Ministers officiating.
Burial followed in the Fred Conn Cemetery, Dana.
Arrangements were under the direction of Hall Funeral Home of Martin.
This is a courtesy obituary.
Ricky Conn, 64, of Banner, died Friday, September 11, 2020.
Funeral services were held Tuesday, September 15, at Nelson-Frazier Funeral Home, Martin.
Burial followed in the Bryce Conn Cemetery, Banner.
Arrangements were under the direction of Nelson-Frazier Funeral Home, Martin.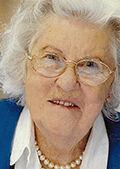 Mavis Vanderpool Kohler, of Oak Ridge. Tennessee, died peacefully Sunday morning, September 6, 2020.  She was 99 years old and a veteran of World War II.
She was predeceased 10 years ago by her husband of 62 years, Peter Bogart Kohler, and earlier by her parents, Laura Hall Vanderpool and John Vanderpool.
Born in McDowell, Kentucky, she was one of six children. Although her parents had only grade-school educations, she was graduated from McDowell High School and from Pikeville College (now University of Pikeville) with a teaching degree.   She vividly remembered the day Pearl Harbor was attacked, sitting in her dorm room listening to the President's speech on the radio.  She returned home to McDowell and Floyd County where she took a one-year teaching job in a two-room schoolhouse; she served as principal and taught 4th, 5th and 6th grades.  With her two older brothers enlisting in service, she also answered the call to duty and became among the first group of women to enlist in the U.S. Navy's WAVES (Women Accepted for Volunteer Emergency Service). Leaving eastern Kentucky for the first time in her life, she boarded a train and reported to Hunter College in New York City for basic training.  Following basic and advanced training, she served as a Pharmacists Mate in the Medical Corps and was based in Washington, D.C., working in U.S. Navy clinics and hospitals.  
After her honorable discharge, she moved to Oak Ridge, Tennessee, where she worked in an administrative position for the Atomic Energy Commission.  There she met Pete Kohler, another World War II vet who was from New York State, and they married in 1948 in Clinton, Tennessee.  After a relocation to Hanford, Washington, and other cities, they moved back to Oak Ridge in 1953 where they lived the rest of their lives.
Extremely proud to have served her country in World War II, she had been recognized with a Quilt of Valor and as an honoree in the annual Veteran's Day parade.  She and her husband participated together in an Honor Air Flight to Washington, D.C., in 2009.  
Until retirement, she was an employee of the Oak Ridge School System, working as a substitute teacher and as a teacher's aide, primarily at Woodland Elementary School.  In addition, she served several terms as President of the Republican Women's Club and was active in Republican events.   She looked forward to basketball season every year and loved pulling for her University of Kentucky Wildcats. During the off-season, she enjoyed working in her yard and was honored as Yard of the Month more than once. She doted on her family and grandchildren and enjoyed time with friends and relatives.
In addition to her husband and parents, she was predeceased by her sisters, Magia Vanderpool Carver and Shirley Vanderpool Emory, and her brothers Ralph, Ottis and Rayce Vanderpool.
She is survived by her daughters, Deborah Kohler Woolley of Nashville, Tennessee, and Laurie Vanderpool Kohler of Clinton, Tennessee, and her son, Peter Bogart Kohler II of South Carolina.  
She is also survived by her half-sister, Joanna Vanderpool Griggs of Humboldt, Tennessee, two grandchildren, several cousins and numerous nieces and nephews and great-nieces and great-nephews.  
 The family would like to say a special thank you to her medical team – Dr. Andre Churchwell and Dr. Sara Martin, both of Vanderbilt Medical Center in Nashville, Tennessee – who took exceptional care of her for the past 10 years.  Most of all, the family says a heartfelt thank you to Rhonda Teague, her private nurse of almost four years, who gave her both professional and loving care.
Family and friends met for a graveside service on Thursday, September 10, 2020 at 1:30 p.m. at Oak Ridge Memorial Park.  She was buried in the Garden of Valor with full military honors provided by the Patriot Riders and the East Tennessee Veterans Honor Guard.  
Weatherford Mortuary in Oak Ridge is handling the arrangements.
Richard Arthur Egbert, Jr.
Richard Arthur Egbert, Jr., 73, of Prestonsburg, died Wednesday, September 9, 2020.
Funeral services were held Sunday, September 13, at Hall Funeral Home, Martin.
Burial followed in the Woodland Cemetery, Ironton, Ohio.
Arrangements were under the direction of Hall Funeral Home of Martin.
James Mullins, 59, of Hi Hat, died Monday, Sept. 7, 2020.
A memorial service will be held at 6 p.m., Tuesday, September 22, at Little Nancy Old Regular Baptist Church, Hi Hat.
Arrangements are under the direction of Nelson-Frazier Funeral Home of Martin.
Joe Russell Mullins, 84, of Ashland, passed away Tuesday, September 8, 2020, at Kings Daughters Medical Center in Ashland.
Joe was born August 23, 1936 in Floyd County, a son of the late Oak and Lena Crawford Mullins. In addition to his parents, Joe was preceded in death by his brother Charles Mullins and his sister Charlotte Mullins.
Survivors include his loving wife of 57 years Emma VanHoose Mullins of Ashland, daughter Susan Thompson and husband Phil of Ashland, grandchildren Rusty (LaNae) Thompson, Kayla (Casey) Fletcher, great grandchildren Haiden Thompson, Adelita Vanover, Oakley Thompson and a host of extended family and good friends.
Joe graduated from Wayland High School in Floyd County. After graduation he took a job in the Elkhorn Mine at Wayland for a short time. In 1958 he joined the Marines and was stationed in Washington, DC. Four months out of boot camp, he was selected for the prestigious Marine Honor Guard, serving as security for the White House, Camp David and all State Affairs until 1961. He returned home and joined the Kentucky State Police graduating in 1962 from the Academy as a trooper serving the people of Boyd County and serving as a driver for the Governor at his request. In 1964 he applied for and was appointed deputy marshal for the Eastern District. During his 28 years as deputy, he was given many special assignments by the U.S. Department of Justice. He saw many foreign dignitaries and made friends with several Israeli leaders, including Prime Minister Begin. But his greatest career achievement was his appointment as United States Marshal on February 14, 1994, after being confirmed by President Clinton and by a unanimous vote of the United States Senate. This position held many responsibilities and duties all over the United States.
Joe came from a family of lawmen. His father was a policeman at Wayland, also and uncle and a couple of cousins with over 80 years combined service in law enforcement.
Funeral services were held at 12:30 p.m. Friday, September 11, 2020 at the Steen Funeral Home 13th St. Chapel.
Burial followed in the Kentucky Veterans Cemetery North East with military honors provided by the Marine Corps Honor League.
COVID-19 restrictions are still in effect, please practice social distancing and wear a mask.
In lieu of flowers, contributions in Joe's Honor may be made to a favorite charity of choice.
To share a condolence with the family, please visit steenfuneralhome.com.
Arrangements were under the direction of Steen Funeral Home, Ashland.