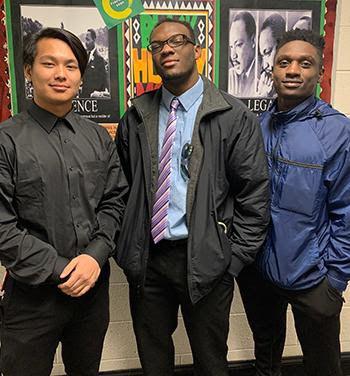 Three advanced security graduates from Carl D. Perkins Job Corps Center began employment
as correctional officers with Luther Luckett Correctional Complex on March 23 after completing a six-week training.
The three new officers are Ariceldata Horn, Isiah Riddick and Gary Baker. Horn was an advanced training transfer from Hawaii Job Corps. Riddick is from Hopkinsville, and completed basic and advanced security at Perkins Job Corps. Baker, from Jacksonville, Florida, also completed both basic and advanced security training at Perkins Job Corps.
The trio graduated from the center on Feb. 9 and, through a partnership between Perkins Job Corps and Luther Luckett Correctional Complex, went straight into correctional officer training.
"The Job Corps program gave each of these young people the training, self-discipline and direction they needed to become successful," a press release said.
The Job Corps reported that prior to joining the Job Corps program, Horn, the youngest of five siblings, was working on a farm with family members, raising chicken and fruits, just to have a place to live. Riddick was kicked out of college for bad behavior, and Baker had no direction for his life and was living in an environment he did not want to be in.
"The three agree that Job Corps encouraged them to step out of their comfort zones, pushed them to be more social, taught them necessary skills to become employable such as communication and time management, and gave them a more positive outlook on life," the press release said. "They are now roommates, sharing an apartment, and Riddick and Baker have just purchased their first vehicles, using money they saved from their work-based learning internships and employment and the transitional allowance offered by Job Corps to help its graduates with expenses associated with being independent and starting a new job.