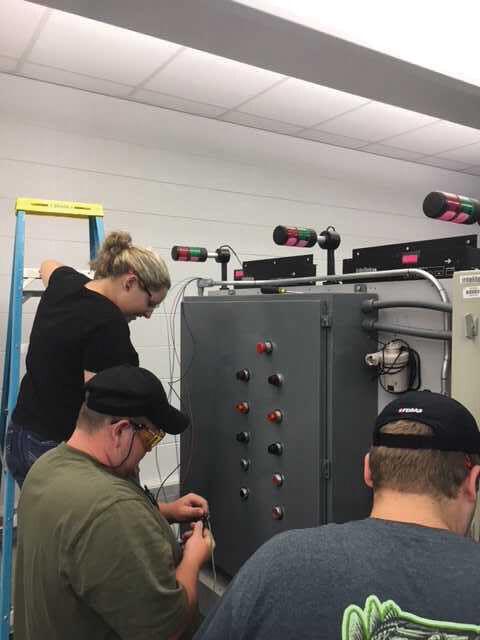 With the decline in the coal industry, many individuals have moved from Eastern Kentucky in order to pursue education or a better paying career, but Big Sandy Community and Technical College's Electrical Program give students the best of both worlds.
According to Joseph Compton, a professor, engineer with more than 20 years of experience and the program coordinator for BSCTC's electrical program, within the program students can learn, electrical technology, broadband technology and engineering electronics technology. Within that, he said, is construction wiring for electrical construction wiring, industrial, commercial, residential, as well as robotics training for students to get certified in. Students can also receive a CFOT, which Compton said regards fiber optics training.
"Just about any kind of thing to do with electricity, troubleshooting, installing, whatever," Compton said. "This is such a huge vast array of different jobs that you can gain experience from."
Compton continued that there are a number of certifications within the program that help add to the options students will have once they complete the four semesters worth of training. One certification which could help students is the program's solar and wind turbine training, which he added, could have added importance depending on the 2020 Presidential Election.
"Some of these certificate level classes are kind of stand alone certifications," Compton said. "Basically, completion of the electrical technology means that students can their diploma and a number of certifications. Once they finish that up, they can go to work and with those credentials they'll have the opportunity to choose from a number of career paths."
Around Eastern Kentucky, students who have completed the program have gone on to work at Kellogg's, Appalachian Wireless, Gearheart Communications, Intermountain Cable, and even Pikeville Medical Center. That is an important aspect, according to Compton, as that shows students that there are career opportunities right here at home. However, students can also choose to move away in order to find work as Compton said there has been a number of graduates go work in the Toyota manufacturing, Ford, Nissan plants.
The college has seen a number of students, Compton said, go on to become licensed electricians, master electricians, as well as some becoming contractors.
Caleb Sullivan, a native of Phelps in Pike County, said he attended the electrical program at BSCTC from 2011 until 2013. According to Sullivan, he earned an Associate's Degree in Electrical Technology during his time there and the training he received during those years was integral in his success as a now Electrical Engineer.
"The technical, hands-on experience I received from Big Sandy became the foundation upon which I would build the rest of my career and helped me to further my education and later accept a position as an Electrical Engineer which I have now held for nearly five years."
Sullivan said the training, skills and experiences he received in the program are many aspects he still utilizes and relies on in order to be successful in his current role.
According to Compton, labor statistics state that the median average of the annual salary for electricians is around $51K or $24 an hour. Which he said helps provide an adequate life for graduates. The program, Compton added, has around a 75 percent placement rate.
The electrical program, according to Compton, is made up of a lot of hands-on learning, which he added is essential when learning this highly specialized trade. During their time in the program, students can receive two years worth of work experience.
"We are the only college in the state of Kentucky that offers a two-year work experience," Compton said. "Once you complete the electrical program, it takes four years of total work experience to be a licensed electrician. So you get two years after graduating here and then you go on to get two more years of field experience before you take your state exam."
"We have a lot of hands-on work here," Compton said. "We have 75 percent or more hands-on. So we'll do a little bit of lecturing, go straight to the lab and then we'll get into the hands-on application, that way you can see what you've learned."
Any of the instructors, according to Compton, will be happy to meet one-on-one with students to ensure they receive the necessary help, as creating a personal relationship with students is "highly important" to the staff at BSCTC.
"If you ever need any type of help or assistance, then we're here for you," Compton said. "We usually give you our cell phone numbers. If you need to work with us, you can give us a call and you can come into the office. We'll then work with you one-on-one to get your schedule ready or help you with any other problem."
Compton said the program has been trying to get into more advanced technology, as the program can always improve. An example, according to him, is home automation and home energy conservation, which teaches students how to monitor how many watts are being used within their home.
Compton said there is an increasing need for individuals in the electrical field, as many of the older individuals from past generations of the workforce, is drawing closer to retirement. This fact, he added, is why its important to get younger people interested in the field.
Individuals who may be interested in BSCTC's electrical program can contact the school for more information. According to Compton, prospective students can apply during the fall for the spring semester and vice versa. Typical class sizes run around 10 to 15 students and if anyone is interested in possibly shadowing a class in order to discover whether or not the program is for them, Compton said that can be arranged.