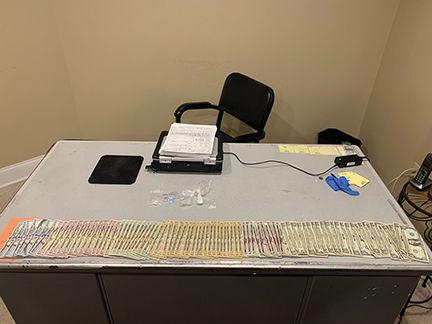 A Dwale man was arrested over the weekend on several charges after a traffic stop conducted by Allen Police Chief Darvin Marsillett.
According to the arrest citation, Marsillett noticed a vehicle weaving from side to side on Ky. 1428 in Allen, crossing the center line several times. The citation said that Marsillett stopped the vehicle and contacted the driver, Keith D. Webb II, 46, of South River Street. Marsillett noted in the citation that Webb had slurred speech and constricted pupils.
The citation said Webb attempted to perform field sobriety tests, but told Marsillett during the course of the attempt that there was no need in performing other tests and that the officer could just take him to jail. The citation said Webb also told Marsillett that he didn't know "what all he had taken."
Webb, the citation said, removed a baggie from his pocket which he told the officer contained methamphetamine and also told Marsillett that a baggie in the driver's side floorboard of the vehicle contained methamphetamine and cocaine.
Webb was lodged in the Floyd County Detention Center on charges of fourth or greater offense DUI, second-offense driving on a DUI-suspended license, first-degree possession of a controlled substance (methamphetamine), first-degree possession of a controlled substance (drug unspecified), third-degree possession of a controlled substance and possession of marijuana.