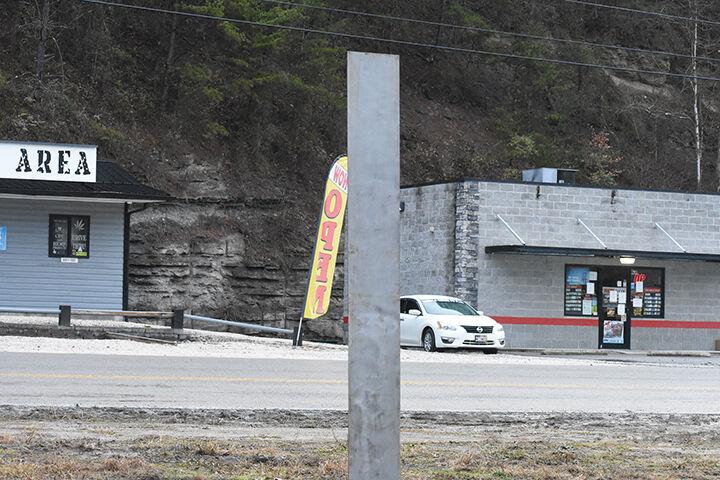 For the City of Prestonsburg, 2021 has begun with mystery, as an unknown monolith-type object recently appeared within the city.
Early Monday morning, news began to spread about the monolith, similar to objects that have appeared in other areas of the nation and world, leaving both officials and residents befuddled.
According to City Council member David Gearheart, who owns the property on which the monolith was placed, he began to receive word about the structure being on his property early Monday morning. Gearheart said that due to the holiday, his family was away on a ski trip in Indiana during the weekend. However, Gearheart said returning home and hearing about "one of those monoliths" popping up on his property was definitely a pleasant surprise.
"I started getting texts from Les (Stapleton) and the owner of Grey Area and they were just typing things like 'Aliens?' and 'What's going on,'" Gearheart said. "When I finally started getting pictures of it, I decided to ride out there and there were people taking pictures with it and everything."
Gearheart said that he asked people around the area whether they had seen anything or if they knew anything about the mysterious monolith, but nobody had answers.
Gearheart said that he plans to leave the structure up, as according to him, it brings an interesting addition to the city.
"I don't know if it'll disappear as quickly as it came, or if someone is going to come get it," Gearheart said. "The way I look at it, I don't know anything about it, but 2020 was a pretty tough year for a lot of people. If people can get a little bit of enjoyment, mystery and laughs out of it, I'm all for it."
Prestonsburg Mayor Les Stapleton said, just like Gearheart, he has no involvement in its placement nor idea how the monolith came to be, but that he is happy to see it due to the interest it was drawing from not only residents, but others.
"I'll tell you one thing, whoever made it is a handy craftsman," Stapleton said jokingly. "But in all honesty, I think it's an exciting aspect to add to the Star City. We've had people from near and far come out just to check it out"
Stapleton said that with the city's annual Christmas lights at Archer Park coming to a close, there was an expectation that traffic would slow down. However, with the monolith mystery afoot, residents and individuals from outside of the city have been traveling to catch a glimpse of the structure.
If anyone wishes to see the structure for themselves, it is located directly across from the Grey Area, near the Prestonsburg Walmart.